Destination Guide: Ski resorts in Davos
Canton of Graubünden, Swiss Alps
Davos is a town in the canton of Graubünden. At an altitude of 1,560 metres, Davos is also known as the highest town in Europe. Davos is a well-known as the conference center that hosts the annual World Economic Forum, which attracts world leaders from around the world and the most varied personalities (even Greta Thunberg from Sweden and Sadhguru from India participated in 2020). You'll be certain to find all kinds of lodging options here, from top-notch accommodation hotels, luxury Ski chalets to budget hostels. You can take a picturesque train ride, The Glacier Express which connects Davos to the Matterhorn.
Davos Ski Guide – Skiing in Davos
Davos offers both downhill and cross-country ski areas, which includes Jakobshorn, Pischa, Rinerhorn and Parsenn. Davos has a total of 260 km of runs, separated into 5 ski areas. Davos ski resort has no architectural attractiveness, but skiers and snowboarders are drawn to the destination because for the slopes. Davos is not the best place for the beginners, but it is great for Intermediate and Advance skiers.
When skiing in Davos, it is important to know it is also linked to smaller Klosters. This allows you to explore 6 ski resorts altogether: Jakobshorn, Pischa, Parsenn, Rinerhorn, Madrisa, and Schatzalp-Strela – with a total of 300km of pistes and 55 lifts.
How to get to Davos?
Getting to Davos by Plane
The closest airports to Davos are Zurich, Friedrichshafen and Memmingen, each with a transfer time of around 2 hours, and Basel, with a transfer time of 3 hours.
Getting to Davos by Train
If you are travelling from Zurich or Basel, you also have the option of taking a train. It will take up to 3 hours to reach Davos by train from Zurich. From Basel to Davos by train can up to 3.30 hours to 4 hours depending on the train and its services.
How to get around Davos – Location
If you wondering How to get around in Davos, the Best way to get around is by foot. The town itself is relatively small, making easy access to your walks. It will take only 45 minutes from one end of town to the other. Buses are available, so if you wish to explore Klosters just jump in. And there is a train connecting both ends of town too. If you are in Davos for one or more nights in a chalet or Ski holiday rental ask for the Davos Klosters Premium Card, offering free local transportation, even discounts on mountain transport, and free and discounted activities.
What are the Ski Seasons in Davos?
Davos's ski season runs from late November until mid-April, depending on the ski resorts. The best time to ski Davos is earlier in the season, Almost 80% of the Ski resort is above 2000 metres and there are plenty of south facing slopes. Davos is Busy for Christmas, New Year and when the world economic forum conference is on, so expect to higher peak rates for your hotels and Ski chalet rentals.
Davos Season Dates by each resort:
• Parsenn: Late November to mid-April
• Jakobshorn Early December to mid-April
• Pischa: Late December to Early-April
• Rinerhorn: Late December to Early-April
• Madrisa: Mid December to late March
• Schatzalp-Strela: Late December to E late March
Davos Ski area, Runs, Ski lifts, Stats & FAQ and Ski chalet accommodation, Après Ski & Night Life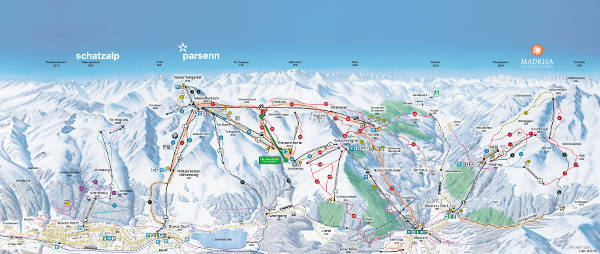 Davos Ski area & Runs
Davos has a total of 260 km of runs, as it is linked to smaller Klosters ski area. This allows you to explore 6 ski resorts altogether: they are Jakobshorn, Pischa, Parsenn, Rinerhorn, Madrisa, and Schatzalp-Strela – with a total of 300km of pistes and 55 lifts. Here are the 2 that connect directly to Davos and are the most important:
1. Jakobshorn, which has one of the best snow parks in Switzerland, with 53 km of runs,
2. Parsenn, the largest ski area, which has 101km of runs and has the highest point at 2,844 metres above sea level.
From here you can ski 15 km directly to Kublis village at the altitude of 810 meters. More than 2 km of vertical drops. The Parsen ski area is well groomed and has great runs for curving. There are 22%, Blue, 41% Red and 17% Black pistes.
Davos and Klosters have 110km (Davos 75km/Klosters 35km) of cross-country ski, and many winter activities even for Non-skiers.
Off Piste Skiing in Davos
The freeriding slopes can be skied from mid-December until mid-April depending on the snow conditions. Make sure to ask a guide to show you around the Davos Klosters freeriding area. There are the lifts and cable cars that easily transport you up, showing an abundance of diverse levels, from high-alpine to safe routes.
Parsenn Gotschna, Rinerhorn (Difficult, tricky, long runs, but pretty views and uninterrupted runs through forests), Flüela valley, Pischa (the largest freeride regions in Switzerland) – just with 3 marked runs, beginning from the Weissfluh summit, the 12-kilometer route trip that Sir Arthur Conan Doyle took on his own visit to Davos is certainly worth a try and Jakobshorn (for beginner off-piste skiers) are a few to mention on this vast possibility of off-piste terrain ski areas in Davos.
Après Ski in Davos
Just about 40 bars and clubs Davos may not have the very best of Après ski in Switzerland! However, this should not put off those who seek a lively Apres ski Scene. In Davos Klosters apres ski can start as early as 7pm, club Bolgen, Bolgen Plaza in Davos, at the foot of the Jakobshorn is one such place. Parsenn Gada is open until late from morning 3, with a restaurant, warm food and drinks in heated terrace and live DJ. The other famous place is Montana Bar in the Parsenn valley. It offers great cocktails, and well loved by the locals, with friendly bar staff and regularly hosts live gigs and DJs. Pöstli Club at Hotel Morosani has become party place to be in Davos, with its strict dress code so speak that you can not have typical Apres ski Boot party rround here, but the place is packed during the peak season with local DJs to entertain. For the night we recommend the xbar and Postil club.
What activities are available for Non-Skiers in Davos?
Apart from the skiing and snowboarding in Davos, non skiers can try Nordic Walking in the bottom of Jakobschornbahnen mountain. The trails consist of 3,8 and 13 km walks respectively.
Davos offers wonderful sports conveniences such as Europe's largest natural ice rink, bowling-bar-bistro, a leisure centre and also a climbing wall. If you want to be more outdoors take a dreamy horse and carriage ride or even tobogganing in Rinerhorn and Schatzalp.
If your muscles are sore after hitting the slopes or if you want are non-skier in the Alps, Davos is offers some extraordinary spas. They are some good top-end wellness amenities, from Hotel Sunstar Park for its public thermal spa and sauna area, steam bath, solarium and indoor pool, to the Waldhotel Davos for its solar heated swimming pool with Jacuzzi beds, massage jets and neck jets. One thing for sure you will not leave as you came, fully recharged for your next alpine adventure be it skiing, exploring the town or just attending the World economy forum conference.
Best Davos Ski Chalets & Accommodation
Although this different lack of charm town Davos has large building blocks, it certainly is an astounding Alpine playground, Davos brings extensive skiing, cross country and few good private places to stay.
Davos is celebrated for its events, particularly the World Economic Forum, so you will be sure to find all types of accommodation options here, from top-notch hotels, ski chalets to hostels and everything in-between. We are able suggest for smaller or larger groups up to 16 sleeps Fully Luxury Catered Chalet in Davos. If you are a smaller group from 3 to 7 person, there are lovely apartments and penthouses ranging from CHF 15,000 to CHF 40,000 a week, most chalets prices are on application and on request basis. Check our selection of Ski chalets, Apartments and Penthouses in Davos.
Our Ratings for Skiers, Snowboarder, Après Ski, nightlife and resort charm in Davos.
Our ratings for Davos:
• Snowboarders: 8
• Advanced skiers: 8
• Intermediates: 8
• Beginners: 7
• Freestylers: 9
• Free riders: 9
• Aprés ski: 7:
• Nightlife: 7
• Resort charm: 6
Our total score for Davos is: 7.5
Here are some final tips:
The town is divided into 2 main areas, each with its own train station: Davos Platz, which is the real centre and connected to Jakobshorn ski area: this area is recommended for freestylers, beginners and those here for the nightlife.
Davos Dorf, which connects to Parsenn ski area, and recommended for intermediates and advanced skiers as well as free-riders.
Try to stay close to the train stations because that way it will be easier to move between all the ski areas:  you will also be close to the lifts for the ski areas we just mentioned.
A tip for freerides: find the time to visit the Pischa ski area, which is actually all off-piste mountain.
If you think this information was helpful do not forget to share it with your family and friends. You will make our day if you proceed to book your Luxury ski chalet accommodation with us.